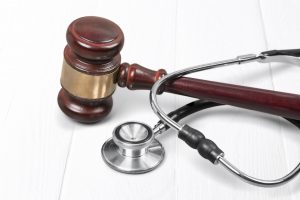 Practicing medicine without authority in California is a crime. The law which is set forth in the California Business and Professions Code 2052 covers a wide range of activities. It applies to standard medical practice and is now being applied to a broad range of Internet and other electronic services.
A few examples of who the statute is aimed at includes:
Anyone from a foreign country, such as the UK, who has a medical license from the foreign country – but not from America.
Anyone licensed by another state – but not California
Someone without any medical license anywhere
People who work in the healthcare profession but don't have a valid license
Anyone who exceeds the scope of their license.
Nurses can generally assist in surgeries under the supervision of a doctor but they can't operate on the patient
Aestheticians who give injections
California and other state medical boards still run undercover investigations for unlicensed practice of medicine. California is in the minority of states that have a statute that authorizes […]
The California unauthorized practice of medicine statute
The illegal practice of medicine covers the following areas:
What conduct is forbidden?

Practicing or attempting to practice
Advertising or holding oneself out as practicing

What type of medicine is covered?

Any system or mode of treating the sick or afflicted
Diagnosing, treating, operating, or prescribing

What types of medical conditions are covered?

Any physical or mental condition including ailments, blemishes, deformities, diseases, disfigurement, disorders or injuries

What constitutes authority?

A valid medical California medical certificate (the Business and Professions Code provides) that hasn't been suspended or revoked
Any other valid legal certificate
A violation of this law means the person who commits the offense:
Is guilty of a public offense – either a felony or a misdemeanor
Can be fined up to $1,000 or $10,000 depending on whether the offense if a misdemeanor or a felony
Can be sentenced to county jail time in accordance with the California Penal Code, Section 1170 (h)
Revocation or suspension of an existing medical license
The law doesn't just apply to the person who commits the offense. Anyone who conspires with the original offender or aids and abets that person can suffer the same consequences.
Key considerations when considering what defenses may apply
An experienced medical practice attorney works with respected criminal defense lawyers to help provide defenses. The criminal lawyer can help with issues such as violations of your Constitution rights, the chain of custody of evidence, and other matters unique to a criminal defense practice. A respected authorized practice of medicine lawyer will focus on showing that a key element of the statute does not apply if you are charged.
Some of the factors medical providers and businesses need to understand are:
Good intentions or good results are not defenses. Showing that you did a good job is not a defense. The patient may be grateful that your treatment worked. Maybe you even saved his/her life. But good results are not a defense. The fact that you didn't' make the patient worse is not a defense. That you were trying to help and didn't intend any harm is not a defense. If you're not authorized to provide medical care, you need to direct the patient to someone who does have that authority.
Whether someone was hurt, though, can make a difference in the penalty phase. If a patient was hurt, then the violator runs a greater risk of being charged with a felony instead of a misdemeanor.
The words in the statute of terms of art. The laws have precise definitions that are understood in the legal and medical communities. If the assistance given doesn't meet any definition, then a defense may apply. For example, diagnostic tests are methods to collect clinical information for the purpose of analyzing a person's medical condition. Examples include MRIs, CT scans, X-Rays, blood tests, oral histories, medical exams, and more. If the test was not characteristic and not diagnostic, such as identifying the color of someone's eyes or having them step on a scale to get their weight, then it may be possible to argue – no diagnosis took place – and the statute was not violated.
That the services were routine is not a defense. Many people try to argue incorrectly that the service provided wasn't really providing medicine. An experienced medical practice lawyer explains that while many services and treatments don't' require a high IQ or years of practice, providing the service/treatment does still violate the statute. Services such as being a midwife acupuncturist do require a license. The best practice is to review the type of service you or an employee provides with an experienced California medical practice lawyer BEFORE you provide the service. He can explain if you need a license or certificate and what type of license. He can also review when and how you can work with someone who does have valid California medical authority.
One key area of confusion is the practice of non-western medicine. While some of these practices may not be considered standard practices of medicine, they may still violate the California statute. An experienced California medical practice attorney will review whether your field of practice is considered a California medical practice.
The dangers of working with out of state doctors or healthcare providers
Difficult questions arise when an out-of-state doctor helps a patient who resides in California. For example, what happens when a Pennsylvania doctor gives a consultation to a doctor in California?
Is the Pennsylvania doctor practicing medicine in California?
Is the focus on where the patient is or where the doctor resides?
Does it matter that the consultation is with a California doctor?
What if the Pennsylvania health care provider wasn't licensed in any state – can the California doctor be charged with unauthorized practice.
If the Pennsylvania doctor has a valid license does he/she actually have to see the patient or patient records – or is working with the California doctor all that's required?
The issues of out-of-state practice are being raised more and more as the Internet, Skype, email, and other electronic communications are being used to connect patients in one state with doctors in another. Many companies such as health supplement or prescription companies use doctors as consultants. As a general rule, the company should use a California doctor if it is going to sell products to California patients.
When is telemedicine illegal?
Telemedicine is expanding as an opportunity for revenue. Some of the popular telemedicine practice areas are:
Holistic health
Integrative medicine
Functional medicine
Anti-aging medical care
Regenerative medicine
Using hormones like testosterone
An experienced California authorized practice of medicine lawyer can explain when, who, and how telemedicine can be provided. The two main issues in telemedicine are:
Providing medicine across state lines raises questions
The general requirement that the treating doctor should physically see the patient
The Medical Board of California prefers in-person examinations before prescriptions are prescribed.
One additional area of confusion to review with your California healthcare lawyer is whether it's a defense that a nurse practitioner conducted the medical exams – and what level of doctor supervision is required.
As prescribing through telemedicine raises legal challenges, understanding where telemedicine laws are tough can help you design your telemedicine startup.
Unauthorized medical practice and corporate medical practices
Some entrepreneurs think that they can make money through medical services by hiring doctors and then getting part of the profit for the medical care the doctors provide. This thought will likely lead to an unauthorized practice of medicine charge. Generally, only California physicians can own a California medical practice. It doesn't matter that the business owners aren't providing the treatments or medical care. The business owners can be charged with violating the statute AND the doctor can be charged with aiding and abetting the business owner's violation of the statute.
The corporate practice of medicine is very complex. Even the Medical Board of California recommends that doctors and business owners consult with an experienced California authorized medical practice lawyer. Section 2400 of the Business and Profession Code specifically provides: "Corporations and other artificial entities shall have no professional rights, privileges, or powers."
There are strict rules on contracts between physicians and non-physicians. The following cannot contract to provide medical services. Nor can they contract to have a doctor provide medical services as an employee or independent contractor:
Non-physicians
Non-medical corporations
Limited liability corporations (LLCs)
Providing medical services (such as medical spa services) includes, according to the California Medical Board:
Choosing what diagnostic tests to order for a specific condition
Deciding when a consult with another doctor or a referral to that doctor is required
Responsibility for overall medical care including treatment options
Overseeing how many patients a doctor should see or how many hours the doctor should work
An experienced California medical practice lawyer will explain what possible solutions may work. For example, a management services organization ("MSO") might be a solution for providing administrative services such as bookkeeping, advertising, and scheduling, for the professional medical corporation ("PMC").
One new area of medicine that requires review is the new marijuana laws. As with other businesses, licensed doctors should own the any venture that prescribes marijuana under the new California marijuana law.
Many healthcare ventures seek to avoid corporate practice of medicine (or psychology) and fee-splitting violations, but they need to first understand how deeply down the rabbit hole these […]
Is your medical assistant violating the California Business and Professions Code?
Don't run the risk of confusing a medical assistant with a medical doctor. A respected California medical practice lawyer will explain when an assistant may be violating the California unlicensed practice laws – even if the doctor is supervising the assistant. The lawyer can also explain when an exception such as the Safe Harbor for Non-Licensed Practitioners (Sections 2053.5 and 2053.6 of the California Business and Professions Code) applies. These sections include a requirement that the patient be advised about many aspects of the treatment including that the physician is not a licensed doctor. The patient should sign a written informed consent.
Special rules and laws apply in other areas such as providing nutritional advice.
Is your medical assistant practicing medicine illegally? Understand the difference between medical assistance and medical practice.
Are you advertising that you practice medicine?
Advertising includes more than just your letterhead. Your website, social media (Facebook, Twitter, etc.) emails, business cards, TV ads, radio ads, written marketing materials are just some of the many other ways people promote themselves. Each promotion can be reviewed by the state to see if you are advertising medical services.
Non-licensed doctors can't generally refer to themselves as a doctor, physician, M.D., Dr., or use any letters, words, or graphics that reasonably imply they are a doctor.
Conclusion:
Many people don't understand they are violating the unauthorized practice of medicine law because they think the statute doesn't apply to them
Some of the red flags for improper practice of medicine are telemedicine, out-of-state advice, corporate practices, and relying on nurse practitioners to do medical exams
There may be exceptions or defenses to the charges
Arrange to speak with a California healthcare lawyer as soon as possible
There may be strategies that satisfy the unauthorized practice of medicine statute while helping the medical practice survive. Don't guess at what the law means. An experienced California medical practice authorization lawyer can explain when you need a license to practice medicine. We'll review the proper and legal balance between protecting the patient and making a living. Improperly practicing medicine or falsely advertising your ability to provide medical care can mean jail time, large fines, and the loss of the legal right to continue providing healthcare.
For help now, Contact Cohen Healthcare Law Group. Our California healthcare lawyers understand and advocate for your rights.