Our Firm was founded to represent practices and ventures that accelerate health and wellness.
The firm's founding mission statement reflected our focus on health and wellness as a commitment to the alleviation of suffering, to the regeneration of spirit, and to the endless unfolding of the human heart. We have always understood medicine, in the broadest sense, to encompass all global healing traditions–whether ancient or modern, tribal or technological, herbal or pharmaceutical—and whether based on the biochemistry of the body of the anatomy of the spirit.
Our founder, Michael H. Cohen, was an Assistant Professor in the Department of Medicine at Harvard Medical School, Adjunct Professor at the Harvard School of Public Health, and Director of Legal Programs for the Harvard Medical School Osher Institute, where he developed policies and procedures governing integrative medicine as models for 14 Harvard-affiliated hospitals.
Back in private practice, Michael teamed up with attorneys known for their pioneering work and expertise representing healthcare businesses, practices, and facilities with complex regulatory and legal needs.
And we continue to add rock stars in the health and wellness legal field. Meet our Team.
Today, the Firm provides thought leadership in the trillion-dollar health and wellness industry. Our attorneys and affiliates represent clients from Sydney to London to Dubai to New York; from acupuncture clinics to cord blood cell banks, addiction treatment facilities, sleep centers, medical spas, telemedicine start-ups, mobile medical app developers, makers of healthcare software, AI and machine learning companies dedicated to healthcare, and manufacturers and distributors of dietary supplements, cosmetics, and medical devices. Meet our Clients. Savvy healthcare industry businesspeople understand that the market for health and wellness services and products is a moving target. It pays to understand and address the full spectrum of legal and regulatory risk.
One day our healthcare legal team may be working with a physician or medical spa; tomorrow it's a telemedicine company, then, an innovative healthcare app; next, it's healthcare-oriented software powered by artificial intelligence (AI); then it's a revolutionary new product or service with the potential to definitively resolve a health and wellness crisis such as the diabetes epidemic. As the market is constantly changing, so is the exact mix of clients that come to us. But what nearly all of our clients have in common is full respect for how much they want to stay out of the crosshairs of the FDA, FTC, the medical board, or another government agency—or a private plaintiff who is litigation happy.
Whether you're coming to us ahead of time to avoid a problem or after the FDA, FTC, medical board, District Attorney, Attorney General, or other regulatory agency or private plaintiff has come knocking on your door, our daily experience in this highly specialized area of the law and business means our healthcare and FDA lawyers can create a legal and regulatory blueprint that will help mitigate your overall risk, and help protect and preserve your money, time and reputation. We have the experience to assemble legal strategies and solutions in the complex, multifaceted, 'Rubik's Cube' of legal puzzles we typically see in the health and wellness industry.
Our specific knowledge about deep pockets of healthcare and FDA law makes us highly competitive nationwide. That is why we invite you to contact us or book a legal strategy session.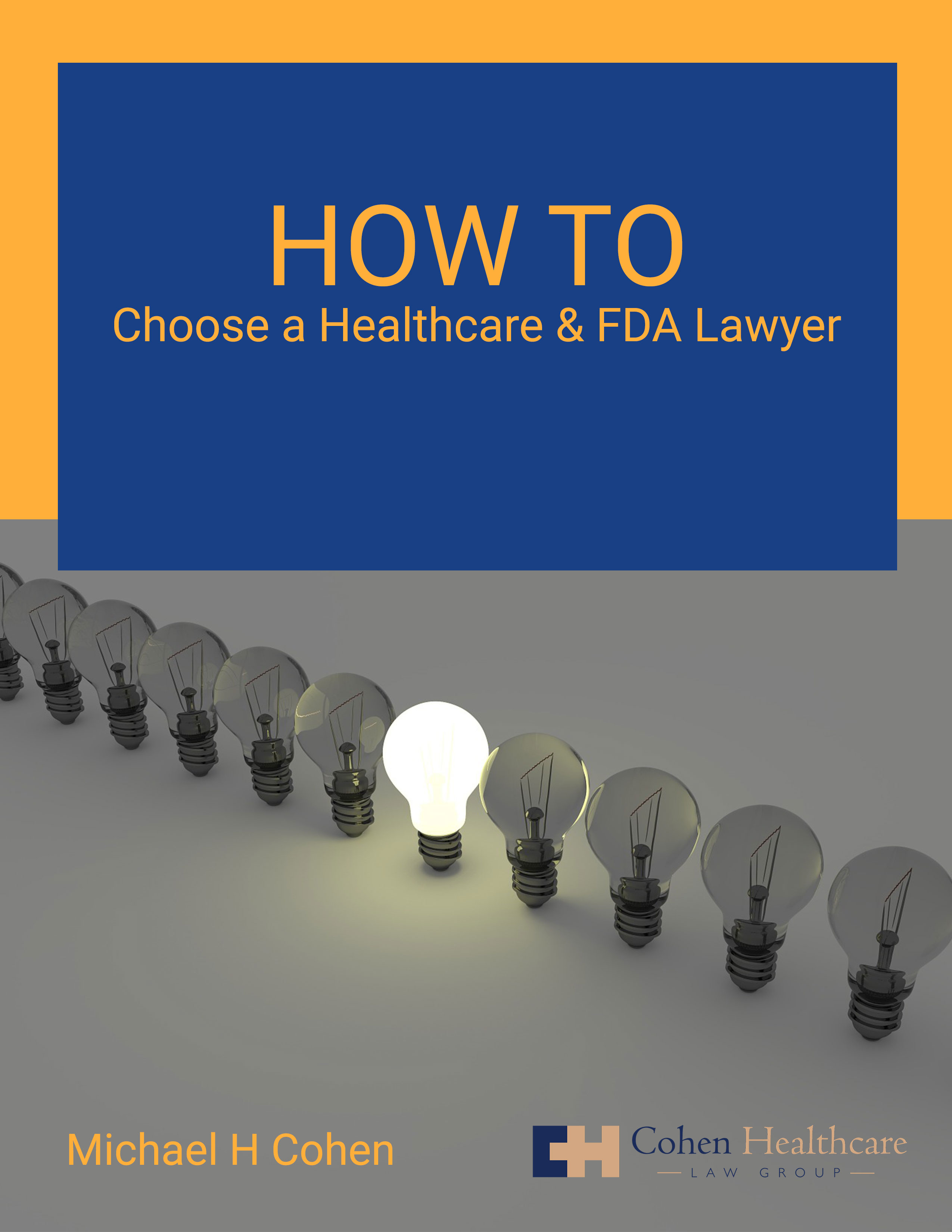 How to Choose a Healthcare Lawyer
Subscribe to our mailing list to receive your copy of How to Choose a Healthcare Lawyer