Blogger Patricia Salber, MD MBA featured Understanding whether a medical app needs FDA regulation can be tricky on The Doctor Weighs In.  In this videotaped interview, held at the 2015 Stanford MedX, Dr. Salber probed into when healthcare entrepreneurs, particularly those developing mobile apps, require FDA guidance.
Healthcare & FDA attorney Michael H. Cohen drew the following takeaways for health and wellness entrepreneurs:
Assess, with FDA counsel, whether your mobile medical app (MMAs) will be a regulated medical device, a device that is definitely not regulated as a device, or one where FDA has enforcement discretion.
It may take considerable legal strategy to position your app appropriately, given the ambiguity between some of these categories. For instance, it may be hard tell whether what you are doing is diagnosing or treating disease which puts you in that regulated category or just doing something for general wellness.
The risk is not just the FDA, but also the Federal Trade Commission (FTC). And, there's a risk from private plaintiffs. So, there is a lot of exposure.
Have your claims reviewed to minimize exposure for false, misleading, or unsubstantiated claims.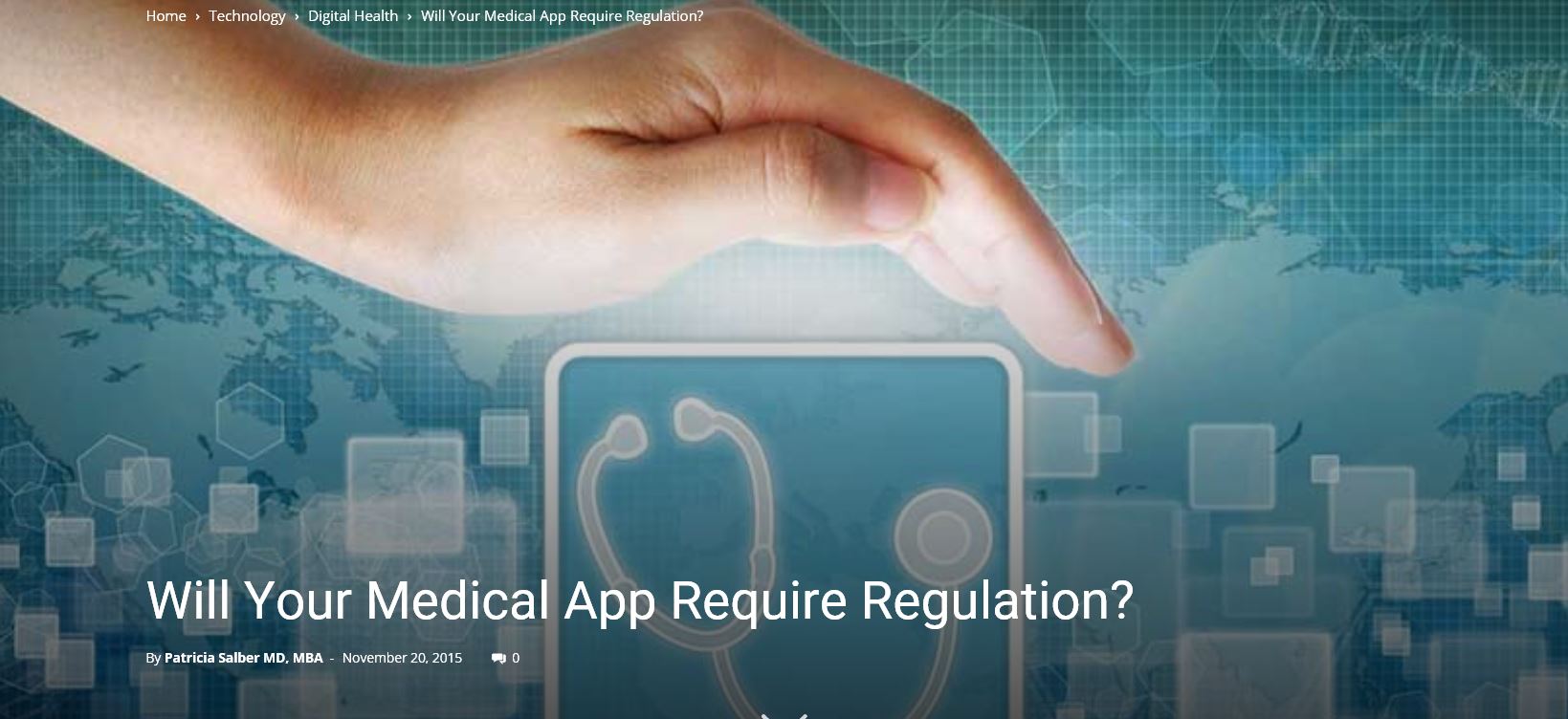 Michael concluded that the regulatory lines are getting ever more blurry despite FDA's attempt to clarify:
In the old days, if you had a pedometer, it would  simply measure something that was useful to you. But now, you will be sharing the information with your doctor and your doctor will be feeding back information about your condition from that. So, it is hard to say where general wellness ends and medicine begins. They are bleeding one into the other…it is becoming harder to regulate and say what's what.
That's where it pays to get astute legal counsel early on.
So for example, if your app has you upload a picture of a blemish on your skin and a remote doctor gives you a diagnosis, Michael said, that's telemedicine; but once the apps gets "smarter" and gives you the diagnosis via a machine learning algorithm, then it may become a regulated medical device.  Still, there are distinctions between medical devices that are exempt, and those that require a showing of <em>substantial equivalence</em> to a <em>predicate</em> device to get to market.
And, your marketing must be consistent with, and limited to, the indications in the 510k clearance, as otherwise the device may be being sold illegally.
Our firm has counseled clients both proactively, prior to FDA involvement, and after the fact in contested situations – some involving the companies' competitors.
Our medical device and FDA attorneys and healthcare lawyers track developments so we can counsel our clients on their healthcare and FDA compliance legal obligations. Contact our health care and FDA legal team for laws and updates relevant to your situation.