New medical businesses offer the promise of financial fortune; helping doctors, hospitals, and health providers provide better services and treatments; and helping patients get medical care they need to stay healthy. These promises come with many dangers and risks that can cause governmental complaints, governmental prosecutions, and civil lawsuits.
Failing to meet with an experienced healthcare medical startup lawyer well before you buy or start a new practice can cause your business to lose money, spend months or years in court, substantial penalties and fines. Failing to obtain legal help can cause your business to fail before it even starts.
As medical business opportunities expand, medical companies who work in any field, including the following, should seek immediate legal attention to reduce risk and increase opportunities:
Biological companies
Cosmetic companies
Experienced doctors forming a new practice
Fertility centers
Health spas
Homeopathic drug companies
Hospitals
Medical businesses devoted to fitness
Medical centers
Medical equipment companies
Medical Internet businesses
Medical marijuana businesses
Medical spas
Medical technology companies
Nutrition companies
RX and OTC drug companies
Vitamin and supplement businesses
If you want to sell healthcare products online, the legal hurdles can be steep.
In addition to the business formation, regulatory compliance, and billing and coding issues discussed in part one of our new medical practice legal checklist – there are many other health and business issues that have a strong legal component. Experienced healthcare lawyers can explain these health-related components. When necessary we often work with business lawyers to address legal issues common to most businesses such as insurance and real estate.
A few examples of healthcare issues new medical practices should consider are:
Marketing. The Office of Inspector General has new guidelines which set forth the proper way to obtain and use testimonials for websites, blogs, and social media platforms. The guidelines indicate when testimonials are permissible and when disclaimers are needed. The guidelines give specific instances of when disclaimers should be used and how they should be worded.
Stem cell research companies. While these businesses offer a lot of possibilities and opportunities are expanding, the Food and Drug Administration (FDA) is concerned that stem cell research companies are overpromising what they can deliver. The FDA is regulating stem cell research to verify the products are safe, pure and effective.
Buying and financing the equipment needed to run the medical business. Companies buying an existing business need to understand if the equipment and facilities are leased or owned by the prior owner – especially if the medical equipment is essential to the practice and the facilities are essential to client good will.
Marketing Plans
Today, marketing includes many online and offline methods. Marketing requires the fundamental basic, your lawyer will explain, that it cannot deceive prospective or current patients. Some of the considerations medical practices need to review are:
Marketing of ancillary services, work with other doctors and health providers, and work with nonmedical professionals. The marketing cannot violate Stark and anti-kickback laws. It cannot deceive.
Online endorsements should comply with the new FTC guidelines. The new Federal Trade Commission guidelines address posting on websites, blogs, Facebook, Twitter, and other forms of social media. The guidelines address:

The standards for soliciting endorsements
The duties to monitor posting by staff and third-party endorsers
What types of disclosures are required
The rules for employee endorsements
Many other promotional and testimonial issues
Avoid these common FDA mistakes marketing health products: communicating with FDA without legal counsel, making disease claims, misunderstanding the rules.
Managed Service Organization Agreements
We draft contracts for management services organizations (MSOs) to help them navigate the complex legal rules that apply such as the corporate practice of medicine doctrine, which imposes limits on the extent to which MSOs can intrude on a medical practice.
We also use our experience with MSO legal agreements to help clients navigate the fraud and abuse arena, including state anti-kickback, self-referral, and fee-splitting prohibitions.
Acquisitions and sales of medical, chiropractic, dental, and other health care practices
We regularly advise on legal issues for many different types of practices. For example, we advise medical businesses who are buying another practice or business to exercise due diligence. Due diligence includes working to discover if the company being acquired has any;
Whistleblower claims asserting false billing or other fraudulent acts
Audits by recovery audit contractors
Disputes with insurance companies
Problems with reimbursement
Labor issues
Employee discrimination or other claims
Malpractice or other open lawsuits or judgments
Peer review hearings
HIPAA privacy complaints
HITECH issues
Open vendor contractors
Open agreements with independent contractors
Experienced healthcare medical practice checklist lawyers understand, for example, the difference between a stock purchase and an asset purchase. We're ready to review whether there are any non-compete clauses, non-solicitation provisions, or confidentiality provisions which could affect employees who might leave the business.
Any open federal or state regulatory or compliance complaints need to be reviewed for Stark, anti-kickback, self-referral or other issues of fraud and abuse.
Nanotechnology laws
In California and other states, medical technology companies are constantly being created to serve the public and the medical community. These businesses can run afoul of many different federal and state laws. We review the following nanotechnology matters, among others, with new medical ventures:
Explaining how the FDA regulates nanotechnology
'Understanding of related FDA legal rules concerning medical devices, cosmetics, OTC products (such as sunscreens), and new dietary ingredients (NDIs) in dietary supplements'
Labeling, production, and handing issues as they relate to FTC rules
Additional federal and state governmental regulations
Intellectual property protection
Corporate law requirements
As our article on nanotechnology law, nano-medicine, and nanobot legal services emphasizes, 'Our nanobot lawyers are skilled in regulatory and transactional aspects of the medical device, cosmetics, OTC drug, and healthcare and life sciences industries.' We also understand the FDA rules on misbranding and adulteration as well as the regulatory compliance risks.
Life Science Issues
Some of the life-science issues that may need to be discussed, depending on the nature of the new business include:
Biotechnology
Off-label use
OTC drugs
Cosmetics and nutraceuticals
Medical devices
Claims and labeling of dietary supplements
Medical food
The Food and Drug Administration regulates these businesses for safety. Deceptive practices will be reviewed. A warning letter can lead to long-term litigation which is why an experienced FDA healthcare attorney reviews your medical business from the start.
The FTC Statement to Congress on Deceptive Marketing of Dietary Supplements is a good place to begin to understand legal compliance issues regarding marketing
Financial Planning, Contracts, and Documents
Experienced medical practice startup lawyers will help medical practices:
Choose the right legal documents
Understand what the legal documents means – your duties, obligations, and what happens if there is a dispute
Negotiate and modify the terms depending on your practices and individual needs
Explain what documentation you should keep to prove you're complying with the financial contract
Proper Licensing and Credentials
New practices must make sure they and their staff have the property licenses. These include professional license such as state medical licenses from the right states. Other licenses may be needed to acquire, keep, and dispense narcotics. Physicians need to complete the necessary credential applications to have practice authorization at various hospitals.
Since most medical practices provide services for senior citizens and the poor, the doctors and health providers need to be properly credentialed to work with Medicare and Medicaid Insurance.
Doctors and medical practices need to obtain many different types of insurance policies. The types of insurance medical practices need to consider include:
Medical malpractice insurance
Workers' Compensation insurance
Group health and dental insurance for the owners, employees, and staff
Property liability insurance
Property protection insurance in case of fire, theft, or other property loss
Business insurance including business interruption insurance
Disability insurance for the owners. This requires regular evaluations of how much income the medical practice generates
Michael H. Cohen has pioneered the field of legal issues in integrative health. He served as Assistant Professor of Medicine at Harvard Medical School and Adjunct faculty at Harvard School of […]
Real estate issues
New medical businesses usually require an office. The officer in turn, is either financed through a lease agreement or some type of purchase agreement. Experience medical business lawyers advise medical startups on the pros and cons of leasing versus buying. They help negotiate the terms of the lease or purchase including drafting the legal documents. The lawyers advise who can sign the lease or be a part owner. They also represent medical business owners when there are disputes.
Additional medical startup checklist considerations
Some of the other concerns an experienced healthcare startup lawyer reviews include:
The Federal Open Payments Program, required by the Affordable Care Act, collects information on interests physicians have in a medical business and stores that information in an accessible database.
Physician hospital agreements and clinician employment agreements
What actions by staff and others may constitute the unauthorized practice of medicine
Awareness of continuing medical education requirements
When doctors have a conflict of interest
The rules for working with medical device and medical supply vendors
Confidentiality agreements
Non-compete agreements
Professional services agreement between a professional medical corporation and a registered nurse
Human resource issues
Intellectual property issues including trademark registration, copyright, and trade secrets
Financial reporting issues
Technology agreements
Employee background check policies
Buying, selling, and valuing medical businesses
Many other legal issues
Focus on growing your business, not legal issues
A skilled healthcare startup practice lawyer reviews a full range of legal issues when advising new medical startup companies. In addition to business formation, regulatory compliance, and billing and coding issues – the core issues the lawyer discusses include:
Marketing plans
Acquiring new businesses
The need for insurance
Managed service organization agreements
Contracts with suppliers, employees, and other entities
Nanotechnology laws
Life science laws
Leasing concerns
Real property issues
Licensing and credentials
Many other issues depending on the nature of your business
Get legal help before you plan to open your new medical business. Contact an experienced and skilled healthcare startup lawyer today.
A thorough legal review can help your practice focus on obtaining new customers, developing new relationships, conducting new research, and the daily fulfillment of helping others – instead of worrying about lawsuits and complaints by the government.
Make the call to a healthcare medical practice lawyer now. There are many federal and state laws that affect medical business of all types and sizes. An experienced healthcare startup lawyer understands what laws control how your business functions on a daily and long-term basis. Cohen Healthcare Law Group understands the federal and state laws that determine how your medical practice operates and what steps must be taken to comply with these laws. Cohen Healthcare Law Group helps medical practice understand their rights and obligations so new medical businesses can focus on what they do best – helping others.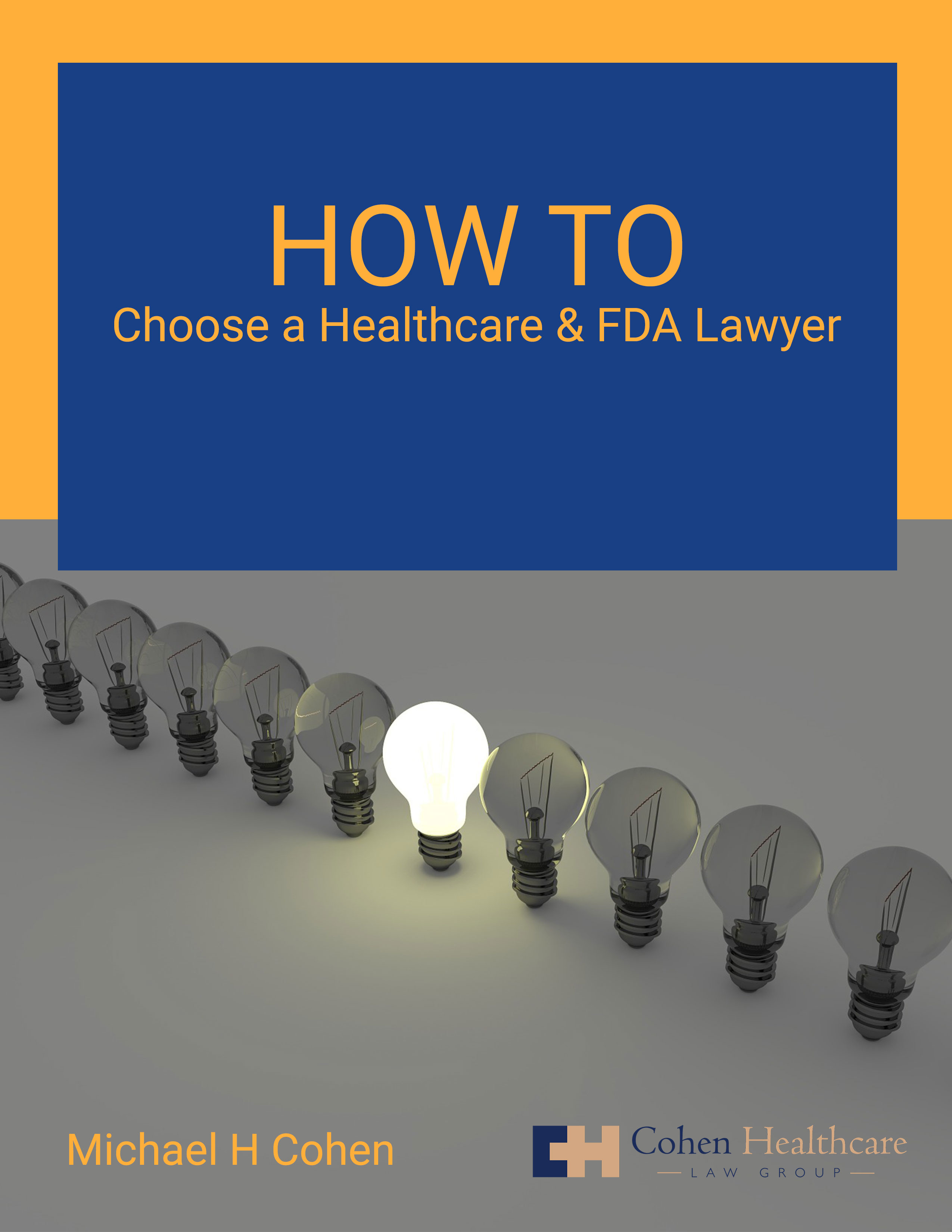 How to Choose a Healthcare Lawyer
Subscribe to our mailing list to receive your copy of How to Choose a Healthcare Lawyer